Here we are folks! Our second instalment of our VE Day cocktails!
This is the Vulcan, lovingly named after one of the Queen's Dorgi's is the very taste of Britain in one delicious cocktail. It is a delicate combination of Gin, Earl Grey, and Cucumber. Certainly sounds like a great British picnic to us!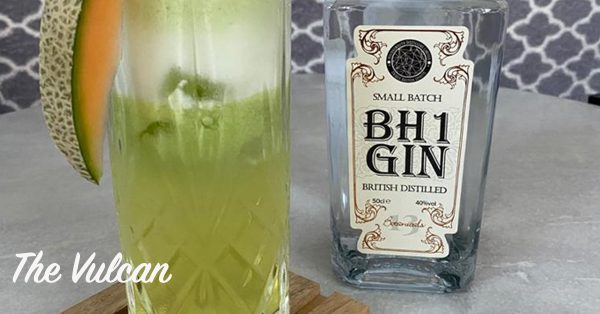 The Vulcan
Ingredients
50ml BH1 Gin
25ml Earl Grey Tea Reduction
½ Teaspoon Lemon Juice
¼ Teaspoon Matcha Tea Powder
1 Egg White
Cucumber Tonic
Ice
Slice of Cantaloupe Melon, to serve
Ingredients for Earl Grey Tea Reduction
200ml Earl Grey Tea
100g Sugar
Method (Earl Grey Tea Reduction)
Brew 200ml of Earl Grey Tea (Loose leafed or bagged whichever you prefer, we used tea bags)
Add the sugar
Add mixture to a pan, bring to the boil and stir over high heat until sugar dissolves
Simmer over medium heat until syrupy
This method will make 100ml of syrup which can be stored in the fridge for up to a month.
Method – The Vulcan
Add your preferred amount of ice to a tall glass
Add all of your ingredients to a shaker except for the ice and cucumber tonic and dry shake*
Top up the shaker with ice, and shake again
Strain into your tall glass
Top up with your preferred amount of tonic
Garnish with sliced melon or a cucumber wheel
Take an awesomely aesthetic photo and tag BH1 to show off your super-duper cocktail making skills
Victory sip.
*Dry shaking: shaking ingredients without ice, dry shaking is the method used when building up the volume of a cocktail by using an egg white. *
What's that? You DON'T have your bottle of BH1 Original Small Batch Gin yet? Well, it's your lucky day! Pop on over to our shop and receive 15% off your order AND FREE delivery to any BH postcode!
Use the code STAYSAFE upon checkout
Missed out on our original VE Day hero cocktail? Get the recipe for The Candy here!
Photographs by the extremely talented @LSPHOTO